Rave Reviews ~ "Heather worked magic for us"
"Heather's help is priceless"
"Heather and I just finished our 3rd or 4th project together- she's amazing. I have moved myself or a loved one several times in the last few years, and I won't do it without her! My last several moves (in small spaces/downsizing) have been seamless, thanks to her help and planning.
This year we worked on floorplans and furniture placement for my boyfriend, who downsized after becoming a true empty-nester. When cutting living space in half, it's crucial to be able to pick what fits and what to purge… before paying the movers relocate all the furniture! Thanks to Heather's expert help, we had printouts of the floorplans. We were well prepared.  On the big day we put everything in its place from jump with printed floorplans for the movers to follow. It would have taken us months to get him so well settled on our own. Working with a professional is time and money SO well spent.
Heather is an amazing designer! She's also exceptional in helping with smart purchases within budget- she does it all. My boyfriend's place is beautiful. As for my own home, guests always think my house is larger than its small footprint due to Heather's good planning. I can't say enough positive things. Heather's help is priceless, she helps clients choose wisely and repurpose when possible. Intelligently. The first time. Hire a pro, hire Heather McManus!"
-Kris Brewer, Jersey City, NJ
"Heather is fun, creative and so easy to work with"
"The transformation of our new hangout room is all due to the genius of Heather McManus of Artistry Interiors LLC. Heather is fun, creative and so easy to work with. She has a fresh sense of design and was respectful of our budget. When there were hard decisions, she would easily walk me though every aspect to help me make the right one.
Heather has professional relationships with contractors who she recommended on our project (entertainment center, tile expert, carpenter). Every one of them was excellent and I would definitely hire them again for other projects.
As for Heather McManus, I would highly recommend her. Whether your project is small or large, she is so fantastic to work with!"  
– Tracy Lauchaire, Newfoundland NJ
"Nothing short of amazing"
"Heather's work is nothing short of amazing… She is an incredibly talented designer. We are nearing completion on our project now which included a complete redecorating of our home from wall colors, window treatments, selecting furnishings in most rooms, and our current phase, completing the look with wall hangings / accessories. We cannot say enough great things about Heather and her work. This is our third home, and having worked with 4 other designers in the past, Heather far exceeds our prior experiences and this is really the first time our home truly feels like "our home." We've also been extremely impressed with how she has utilized our existing decor in brand new ways where something we were ready to discard, now looks great in the space and we fell in love with the piece again. Heather has a talent that is hard to find and even once our current redecorating of our home is done, we foresee enlisting her services again in the future, perhaps even doing our Holiday decor next year. She is one of a kind, a true professional, trusted advisor, and we would highly recommend her (and have) to anyone…"
-Martha and Greg Asselin, Madison NJ
"It was definitely worth the money!"
"The idea download design services was very helpful…no pressure, great information presented in a professional and non-intimidating way. I would not have been able to come up with the same design solutions on my own. It was definitely worth the money!"
– Vera Ricciardi, Bedminster NJ
"Couldn't be happier"
"Artistry Interiors, and its principal Heather, is a very friendly, responsive and amazing talented company that takes into consideration the client's desires. I couldn't be happier with the design plans, recommendations and overall attitude and customer-focus of Artistry Interiors. I would definitely hire this company again, and probably will in the not too distant future."
-Diana Parra, Roselle Park, NJ
"Worked with us on small tweaks that make all the difference to larger projects."
"I highly recommend Heather McManus of Artistry Interiors. Heather demonstrated an amazing ability to focus in on our style, even when I couldn't always articulate what I was striving for myself. She has made recommendations that brought the whole project together to achieve the desired results. She has a vast array of talents, and has worked with us on small tweaks that make all the difference to larger projects."
-Betsy Chandler, Boonton, NJ
"Considered my needs then thoughtfully worked them into her designs"
"A wonderful designer! She always considered my needs then thoughtfully worked them into her designs. With many years experience and a Pratt degree behind her, the room really came to life in a beautiful and practical way. I am very happy with my bedroom , we worked with my budget and most of my furniture . I can't wait to get started on the living room this winter . This time I will take before and after photo's"
-Ellen Smart, Riverhead, NY
"We cannot say enough good things about Artistry Interiors"
We cannot say enough good things about Artistry Interiors. We wanted new draperies in the dining room. Heather is so punctual; she arrived at the stroke of 10 a.m. with lots of samples but in less than 5 minutes, we found exactly what we wanted. She helped us choose the correct rod, trim, etc., etc. She is a talented artist when it comes to decorating your home. We were thrilled with her expertise, her gentle manner and her punctuality. –
-Irene and Arnold Card, Kinnelon NJ
"My new home was exactly what I had dreamt of living in"
"I had recently moved from out of state with my 2 small children back home to New jersey. I knew when I purchased the home there were many things I would have to change. The previous owners had completely opposite taste from mine but, I loved the skeleton and layout of the home. At first I tried to do my new home by myself, (what a costly mistake that was for me!!!) Then I finally came to my senses and realized I needed the help of a professional. Heather was referred to me, and we began our journey to fix my mess together. Heather quickly got to know my taste and dislikes. She had so many wonderful ideas that I would never have thought of. After many months my new home was exactly what I had dreamt of living in. Without Heather I would be terribly miserable with the home that I purchased."
– Tiffany King, East Hanover, NJ
"I trusted her judgment and couldn't be happier"
I started redecorating my main living area three years ago but never finished. I would go to stores, bring things home, determine they didn't work, and return them. This left me stressed and with rooms with no wall art and/or personality. Then, I read an article in The Star-Ledger about a project Heather worked on and decided to give her a call. I'm glad I did. I needed someone to help me finish what was started, and Heather offers a Finishing Touches Package. Perfect! Heather kept within my budget and provided the direction I so desperately needed. Her keen eye, attention to detail, and perspective enabled the whole room to come together in less than two weeks. Shopping with Heather was enlightening; she suggested artwork that I couldn't envision in the room. I trusted her judgment and couldn't be happier. She rearranged furniture, moved things in and out, and placed everything until the room came to life again. I hired Heather to finish our living room and am so pleased with the outcome that I intend to have her finish all of my rooms. Thanks to Heather, we love our living room again. 
–Lisa McNamara, Long Valley, NJ
"I wish I hired Heather years ago"
"My wife and I are very satisfied with Heather's professionalism, attention to detail and her willingness to listen to our wants and needs. At first, I was neutral about getting window treatments. I asked Heather to help us because I trusted her on a personal level. Looking back, I wish I hired Heather years ago. The window treatments that Heather recommended made our rooms feel like home and now I love where I live even more. Thank you Heather."
–Joe Troy, Randolph, NJ
"We are 100% Satisfied"
"I couldn't be happier with Artistry Interiors!! Heather is Extremely attentive and has wonderful ideas for every room!! She helps you stay organized and on top of your project. She surrounds herself with many talented individuals and business contacts to make life easier in assisting you in completing your project!! We are 100% Satisfied!!!"
-Melissa Yannuzzi, Kinnelon, NJ
"attention to detail, easy going approach, and wonderful design sense"
"I have enjoyed working with Artistry Interiors on my family room and living room projects they have been patient, attentive to my taste and budget, and willing to work with me to put together a design plan that truly meets our family's needs and expectations. Their conscientious attention to detail, easy going approach, and wonderful design sense have made the whole experience a rewarding one."
-Margarethe Laurenzi, Mountain Lakes, NJ
"Heather worked magic for us"
"My wife and I are thrilled with the layouts that Heather of Artistry Interiors prepared for us. We are smart and creative people, but had struggled for 5 years with an awkward living room. We each had wants and ideas that somehow clashed. Heather worked magic for us, so we retained her to do layouts for our whole loft apartment. She prepared multiple ideas for each room, and sat with us as we talked pros/cons on each. It really took our house outlook from "does it fit there" to "this house has two adults who really thought about design choices"!"
-Sean Murphy, Jersey City, NJ
"I feel more confident with design choices"
"I needed design advice on a budget – we purchased a new construction home and we didn't have a lot of money in our budget for full design services right away. I really just wanted someone to give me direction with color, furniture placement, and some new pieces so our house would look more like a home and less like a stark white, empty house. We went from a small ranch to a large colonial, and I was having trouble with the larger scale. So I hired Heather for her idea download service. She provided me with advice for a couple of rooms in my house, and answered any questions I had about design dilemmas. She left me with a plan to work from in decorating my first floor. We are well on our way in putting our plan in motion, and I feel more confident with design choices after hiring and meeting with Heather."
– Denise Bacigalupo, Flanders, NJ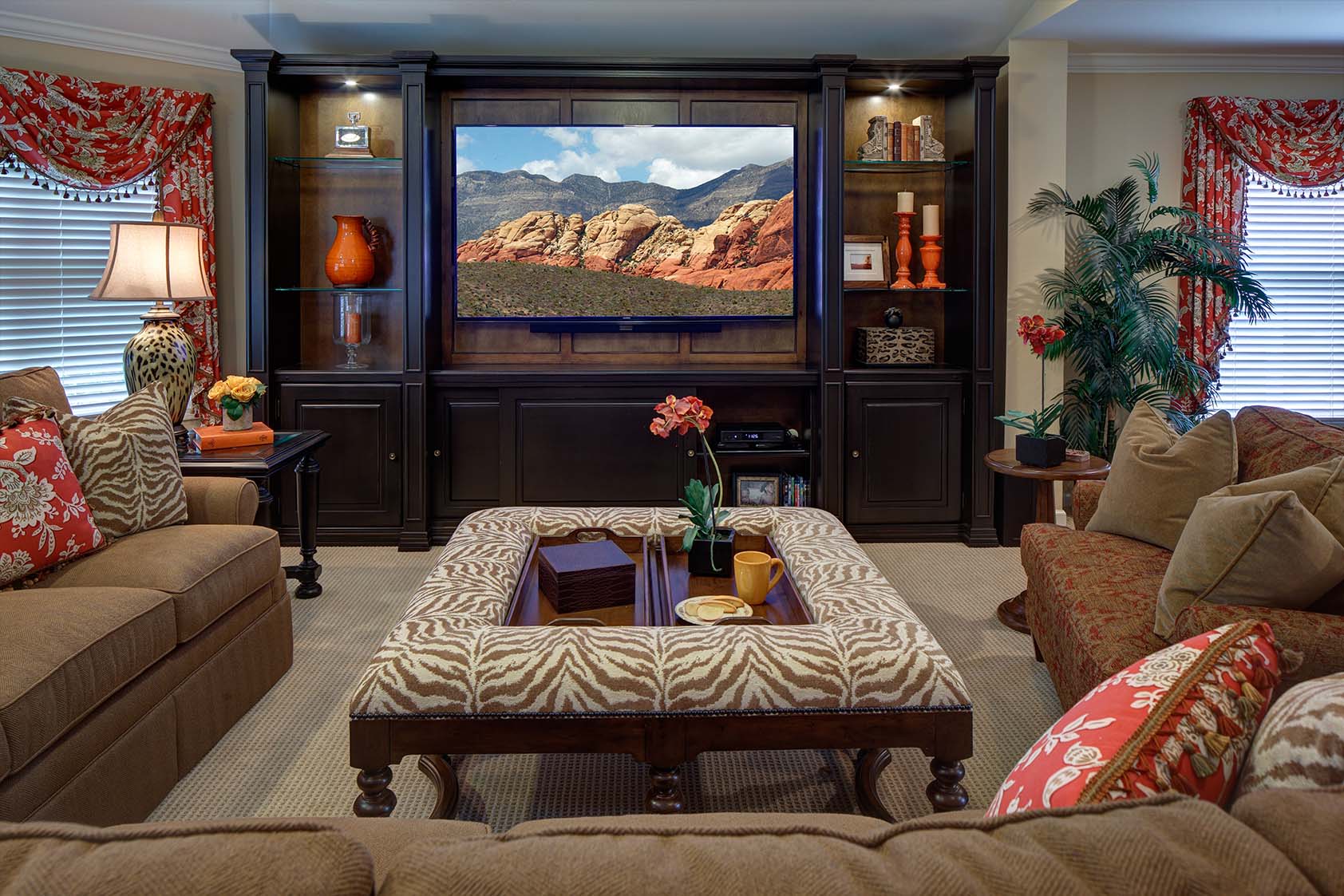 "We will work with Heather again"
"My husband and I were very pleased with the furniture placement and paint suggestions that Heather supplied. She spent a lot of time preparing drawings after spending time at our home. She was very professional and listened as we told her that we wanted to use many of the furnishings we already have in the home. Measurements were taken and the drawings we received were very detailed and specific. We liked all the possibilities but especially her favorite! Heather gave us suggestions as to where to place the TV (possibly over the fireplace) and included information and pictures of other similar rooms. Paint colors were discussed and recommended. We will work with Heather again in the very near future."
-Bonnie Richardson, Kinnelon, NJ
"Heather came to the rescue"
"Heather was a big help!! My mother had picked a terrible color for her living room and Heather came to the rescue. She had a consultation with my mother and picked out a fabulous color scheme for the living room and kitchen. She was on time for the appointment, very professional and a joy to speak with during the consultation. Thank you again for all your help!"
-Kevin Dulio, Rockaway, NJ
30 Ways to Love Where You Live
Enter your name and email below to get FREE INSTANT ACCESS to my 30 Ways to Love Where You Live Design Tips.